whoa biggest news to hit this little town in decades... super wal-mart finally opened today. seriously think we are the last town on the planet to get a super wal-mart.
so anyway i'm linking up again today for friday letters.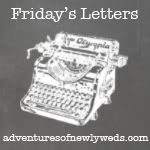 so let's get started
dear snow
i hear you might make an appearance this weekend. not so sure if i'm ready for that yet. i love you, but i'm still in warm weather mode.
dear lil jon
super stoked that i get to see you this weekend. kinda sad that you're not bringing the ying yang twins though. and please excuse my husbands attire he will be wearing, he thinks it will be hilarious to dress like a hillbilly going to a lil jon concert....
dear super wal mart
i'm going to try and avoid you at all cost this weekend.
dear katy perry
we get it... you're voting for obama. but do you really have to announce it on your clothes?

dear taylor swift
i hear you and little kennedy have split. did you need an excuse to write another breakup song??
dear weekend
couldn't be happier you are finally here. please be good to me :-)