hey loves!
happy hump day.
so can anyone catch me up on the election?? who won???
jk, jk!
i'm not too thrilled with the results, but it is what it is. i saw a good post today that really got me thinking. "god doesn't make mistakes, there is a reason for everything, and he is still in control" a to the men!!!
so anyway i'm linking up again for wedded bliss wednesday!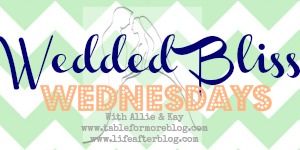 so on with the questions...
CHILDHOOD EXPECTATIONS OF MARRIAGE!
1. When you were a child what did you imagine YOUR Prince Charming to be like?
i was the usual 7 year old dreaming of that one prince riding a horse and sweeping me off my feet.
2. Does you husband match your prediction as a child?
he is my prince charming... minus the horse lol
3. What about when you were a teenager and knew it all about love, does you relationship match that scenario you had during those rebel years?
my thoughts on love as a teenager were way different than they are now. love isn't about all the "sweet" things you do for each other. when i was a teenager i thought love was all about the husband treating the wife like a queen and doing anything in the world for her. but that isn't what it's about at all...it's about being there for one another through good times and bad times. there are times when i really don't like my husband, but i'm stuck with him. i've grown up and realized that marriage isn't a perfect fairytale like the ones we see in the disney movies growing up.
4. What love movie would you best match your relationship to? Why?
i'm gonna have to switch this question up a bit and say that our "love" story is more like a tv show. i think we are alot like ross and rachel in friends. we got back together, broke up, got back together, broke up, got back... ok you get what i'm saying. anyway in the end we finally realized that we were meant to be with each other :-)
i always love these kinds of linkups because it gives me a chance to know you sweet bloggers better. i love reading your answers.
happy wednesday!