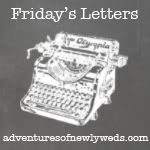 dear friday
i am so excited you are here. why? well because this weekend is gonna be full of fun. why? well duh it's my birfday weekend!!!
dear god
it's amazing how much smoother my weeks go when i focus more of my time on you. thank you for your unconditional love.
dear followers
i'm sorry i've been such a slacker lately. life got in the way, and this busy girl can't keep up.
dear alumni game
i can't believe i'm actually going to be cheering tomorrow night. please be good to me, my body don't move like it used to.
dear taylor swift
do you think this relationship will last? i'll give it about 2 weeks...
dear self
don't get too crazy this weekend. i know it's your birthday weekend and all, but you aren't 21 anymore.
happy friday loves