exciting news y'al! julia, ady, and i have teamed up together for a new linky called take it back tuesday. a link party where you can talk about everything old school. take it on back now!
-write a post about your past
(share some fond memories of the good ol' days, funny stories, fashion trends, diary secrets, whatever you want)
-grab our button
-link-up
-meet new friends!
-add our button or include a link-back to us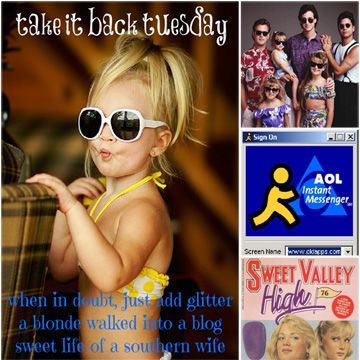 i've been so excited about us starting this linkup. i've always loved digging through old pictures, and embarrassing high school and middle school love notes haha.
remember these fun little things??
y'all i was a lisa frank freak! i had the t-shirts, the stationary and of course the backpack! there was just something about those fun animal stickers that made my life so much more exciting lol.
now i know that every one of you had one of these. and if not i will just consider you uncool...
oh the famous nano pets, i got in trouble more than once in 6th grade english class for mine going off in my back pack. hey teach, hold up i gotta clean up my fake dogs poop!
my absolute favorite show on nickelodeon would have to be hey dude. y'all remember this show??
and let's not forget camp anawanna
i could go on and on about 90's nick shows. if i had my way i'd bring back all of them. move over icarly!
so on days that i would stay home from school because i was ...ahem... sick, my favorite thing to do was to play with this ol thing.
wanna join in on the fun? linkup below and take it on back!