don't you just love a good flashback? i know i do.
where we reminisce on all the good ol' times.
wanna join in on the fun?
all ya gotta do is write a post about your past (anything that reminds you of the good ol' days)
grab our button.
link-up.
meet new friends!
sound like fun?
join us!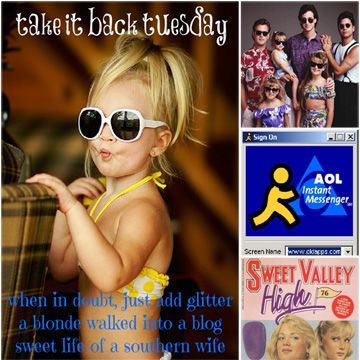 so in my post yesterday i wrote about wishing i was still in college sometimes. i miss being able to party like a rockstar and still make it to class on time late.
let's take it back to around 2006 and 2007. back when i joined a sorority...
awe see don't we look cute in our matching shirts and pearls?? well these were our sober moments.
these are the memories i look back on and say "awe that was such a sweet time"
well these are the memories i look back on and say "wtf?!? wow i was wasty pants"
and then there was the time when we decided to take a random spring break trip to panama city.
when i say random i mean we decided to go the night before we left. we were young and had no responsibilities...
and we met some hot army guys along the way...
don't ask why they are half naked. i don't remember lol
oh hey! i'm drunkie!
and then the day after...
i tried to keep it classy by wearing the sorority girl pearls. ha!
oh the college days. i miss them!
i miss going out on thirsty thursday, and making random wal mat and mcdonalds trips at 2 am. those truly were the good ol' days. now you're lucky to see me out after midnight.
tell us about your old memories.
linkup below.