it's time for another take it back tuesday post!
i always get so excited about these. i apologize for posting at 4:45. i've been busy today...
so if you're not familiar with t.i.b.t. let me explain.
julia
,
ady
and i have teamed up for this fun new link up where we take it back and talk about fun things from our past.
here's what you do.
grab our button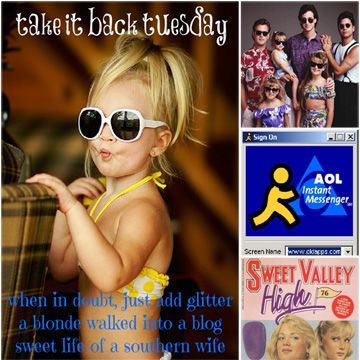 write a post about your past
meet new friends.
since reality tv is the big thing now a days i'm gonna take it back to when reality tv was more than just the kardashians and teenagers getting preggers.
let's re-visit some of my favorite all time reality tv shows.
rock of love with brett michaels
if y'all thought the bitches on the bachelor were cray cray, think again. those girls have nothing on the famous rock of love girls.
these girls had some serious drama and none of them were trashy... ahem ahem sarcasm...
newlyweds
i have every season and still watch it.
i secretly wish these two were still together.
laguna beach
ohh i loved me some california drama.
lc and lo were my faves!
room raiders
y'all remember this show?? loved it!!
tell us about your past. link up below :)