once again it's time for another take it back tuesday link up!
where we talk about everything that reminds us of the good ol' days.
we like to call it...
take it back tuesday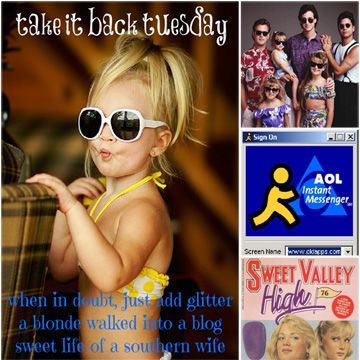 write a post about your past
*all we ask is that you add our button or include a link-back to us.*
*and if you follow, we will!*
i love getting together with old friends and talking about old school memories and stuff we used to do before the days of facebook and pinterest.
can you guess who this little squirt is?
that would be your's truly. wasn't i a cutie patootie?!
so anyway i thought it would be fun to take it way back, i'm talking back to my elementary school days.
remember the days of nick jr.? we used to watch that everyday!
do you guys remember this show?
and what about this one??
i think i could probably still sing each of the intro songs to these shows. they got stuck in your head, kind of like the barney song... but we won't go there haha.
now i know that every one of you girls played this game...
and of course this cool little thing right here...
my favorite! but i hated the fact that you could only bake one little cookie, and brownie at a time, but the box shows a whole plate of them!! what the heck??
wanna play along? go link up, and join in on the fun :)
> > > >