before i start my take it back tuesday post, i just want to ask my fellow bloggers if y'all are having this problem too. and it may just be me, but for some reason my followers keep dropping to 119 every day. it happened last week twice. i started at 121 and dropped to 119, and the next day it did the same thing. yesterday i went back up to 121, and again today i am back at 119. i don't know if it's something with blogger, or if people are actually unfollowing my blog. i hate the thought of people unfollowing me, so i figured i would ask if this has happened to any of you.
so anyway moving on...
it's time for another take it back tuesday post.
all you gotta do is grab our button, visit my co-hosts, link back to us, and write about your favorite things from the past. it could be anything from old shows, movies or even funny memories.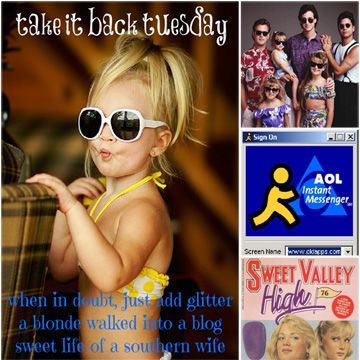 so not sure if any of you know this or not, but i used to be a cheerleader. that's right! a big bow, mini skirt, pom pom holding, screaming cheerleader...
can you find me?? 2nd row, 2nd in from the right. and that's ol' julia right above me. aren't we cute?
oh these were the good ol' days.
yup that's me waving like an idiot lol.
so there ya have it folks. my life as a high school cheerleader.
happy tuesday!