it's tuesday, which means it's time to take it back!
all ya gotta do is grab our button, visit my co-hosts, meet new friends, and talk about the good ol' days.
ready, set, go!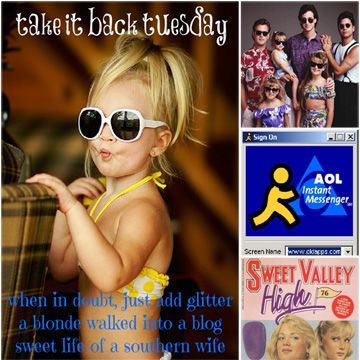 we all love a good flashback right? well this week i'm takin it back to around 2002 when i was 16, carefree, and thought i was in love...
so i dated this guy named matt, and oh man he was the shiznit. oh and not to mention my first kiss. i mean who forgets their first kiss?
well this guy broke my poor little heart. tore it to pieces. at 16 i thought i had found the love of my life. i mean, come on it was serious, we went to the movies and everything... it was a storybook romance. we even held hands at the ball games, we were official. (ok i'm sure you get my point)
oh to be 16 again.

check out this note i wrote to him after he broke my heart. feel free to laugh your asses off.
loving the horrible grammar in that letter. see i told you it was serious...
dear 16 year old self... don't worry you'll get over this guy, it's not the end of the world.
ps please get rid of the sausage role bangs.
sincerely,
your 27 year old self.
wanna join in the fun? link up with us below!