linking up for friday's letters!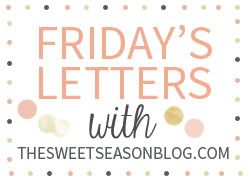 dear self: calm down and stop being so dramatic! life isn't so bad. you might be a little overwhelmed at work, but it will get better. dear weekend: i couldn't be happier that you are here. this week has been h-e double hockey sticks!! dear hubby: thank you for your support this week. dear wine: you will be my best friend this weekend. dear sleep: you will be my other bff this weekend, sorry but wine comes first. dear life: i'm ready for you to slow down just a tad bit...
sorry for my "down in the dumps" post today. let me just say that i couldn't be happier that today is friday.