linking up with some amazing ladies for the greek is greek link up.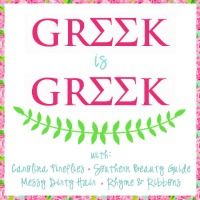 when i found out about this link up i was so excited. i love talking about my old college days ;)
let me start from the beginning.
i started college in the fall of 2004 and joining a sorority was the last thing on my mind. i didn't wanna be a part of the "they buy their friends" clique.
well all of that changed in 2005 when i met a few girls who were alpha chis. and since that's all i knew, alpha chi became my new obsession. honestly i think it was the idea of a sisterhood that i was obsessed with, and at the time i had no clue what other sororities were on campus. well one day during the spring semester of my freshman year, i got a call from my mom. a girl who used to work for her named jennifer, was now the ccd for a sorority called delta zeta on campus. mom said that she could see me loving the sorority life and that i should give her a call and go meet the girls. so that's just what i did.
i loved it! i loved the girls, and it felt so comfortable. i felt like i was home. i instantly fell in love with delta zeta.
i got my bid 3 weeks later, and 2 months after that i was officially a delta zeta baby turtle.
the very first pic of my pledge sisters and i
there were 5 of us fall '05 newbies, one of the smallest that had ever come through, but we were ready to show those ladies what we were made of.
as the semester went on, and we learned more and more about becoming a woman of delta zeta, we didn't know it but our lives were changing right before our eyes. we were not only becoming a part of a sorority, but a sisterhood.
the night we actually became sisters was a night that i'll never forget. i had never been more proud. i remember i didn't take my letters off for an entire day. i think i even slept in them.
fall '05 with our pledge mom. right after we officially became women of delta zeta.
from that moment on, delta zeta had my heart. we were a true sisterhood. we kept each others secrets, and offered shoulders to cry on.
these girls were so very special to me. and the years to come brought tears, laughter and random spring break trips to panama city :)
my little and i
my dz fam
even though some of us have drifted apart throughout the years, we always come together when we need each other. we lost a special sister a few years ago, one that i was very close to.
it's like losing a piece of yourself. it's something that tears you apart, yet having the support of all the sisters helped tremendously. we were all hurting, and all made it a point to be there for one another. even if it meant traveling for hours just to be there for the funeral.
so with all of that said, these ladies will forever hold a special place in my heart.
and delta zeta will always be a part of me.
ltfef
:)